I am so excited to feature Becca Donaldson today on The High School Puzzle. She is passionate about helping others through an organization called Hope Therapy. Here is what Becca has to say about her experiences:
My name is Rebecca Donaldson and I volunteer for a non-profit organization called Hope Therapy. Hope Therapy's goal for existence is to help children with physical and mental disabilities by teaching them how to ride a horse. The objective behind this simple idea is to help these children, depending on their disability, develop social, physical, and emotional skills through the horse's movement and friendship.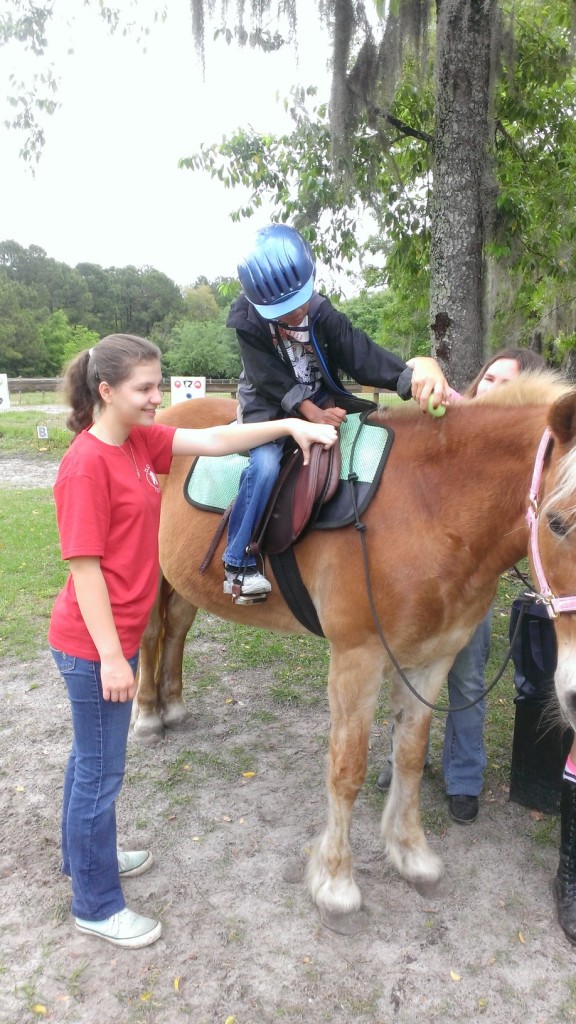 I volunteer whenever I can, but usually, because of a very tight schedule, it is narrowed down to every Saturday. My job at Hope Therapy is to side-walk next to the horse or to lead the horse while the patient is riding. The job of side-walking is to make sure that the rider is stable on top of a very large animal. The job of the leader is to be conscientious of the side-walkers and to know the horse to prevent dangers to the rider.
I have been involved with Hope Therapy for about two years now. I became interested in Hope therapy even before Hope Therapy was in my life. My mom was volunteering when I was very little at another therapeutic riding facility, and she would tell me little bits and pieces about it. For as long as I can remember, my mom had such a willing and caring heart for disabled people, especially children, and I guess she just passed it along to me!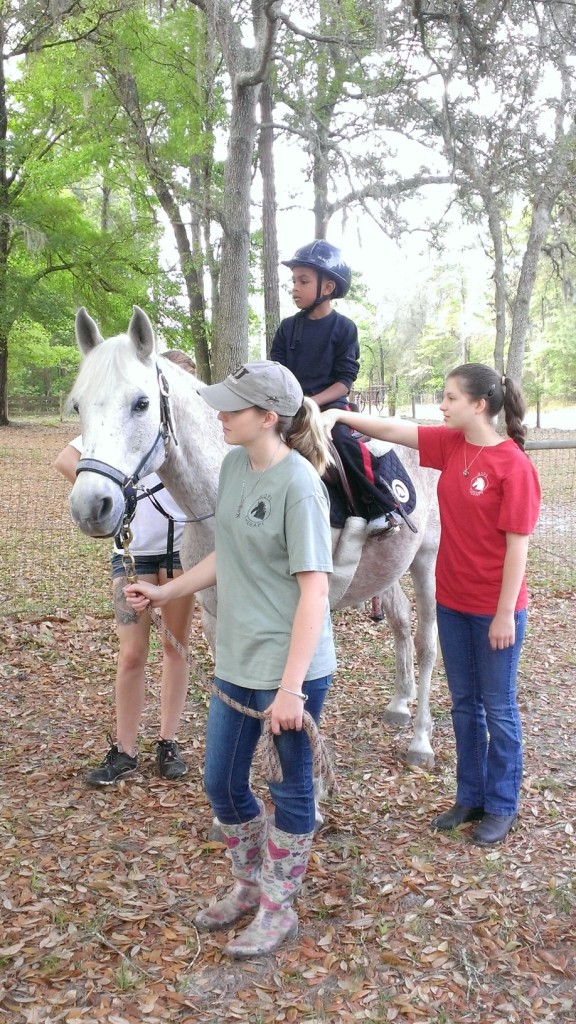 Sometime later, the facility my mom was volunteering at closed down, and I didn't really hear much about therapeutic riding, though my mom still did things with disabled children. Eventually, my mom's friend in Texas obtained her therapeutic riding certification, which gives the person the ability to teach disabled children with therapeutic riding. Not long after that, my mom began working towards her therapeutic riding certification, but to do that, she would have to find a facility to volunteer at. And, along came Hope Therapy.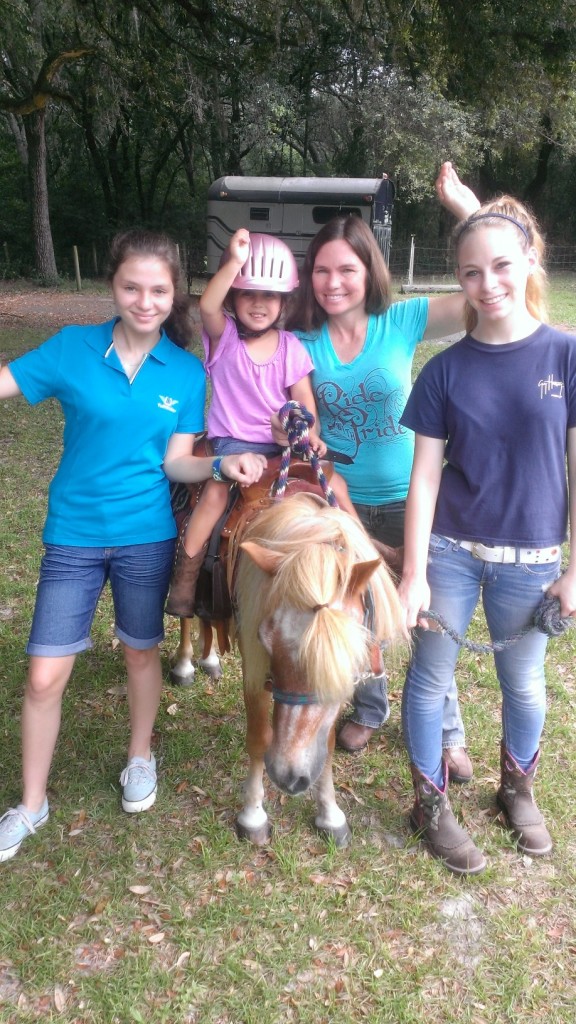 When I was in seventh grade, my mom obtained her therapeutic riding certification and invited me to come out with her to volunteer. Two years later, I am still volunteering at Hope Therapy and enjoying every moment of making children and adults happy by the simple joy of sitting on a horse's back.
Hope Therapy recently gave me a Certificate of Appreciation to me for donating my birthday money for Hope Therapy funds, along with my time volunteering. I hope to acquire my therapeutic riding certification just as my mom and my mom's friend. It is my dream to help disabled people in any way that I can, even if I do something other than therapeutic riding as my career. The certificate is a wonderful thing to have, especially if I plan to work with disabled children outside of my job as a past time and hobby.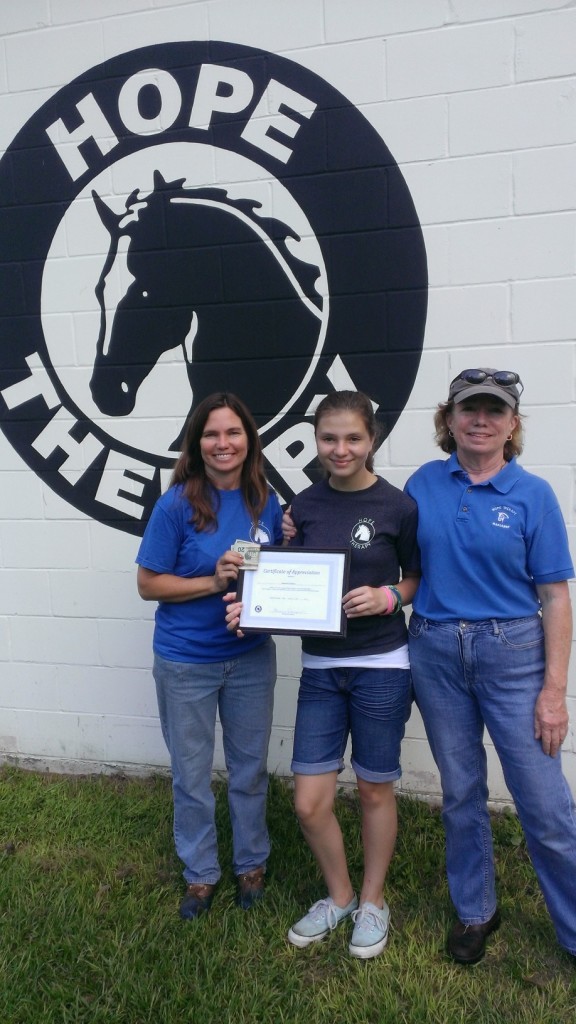 Hope Therapy helps me accomplish that goal, along with giving me the needed practice of being around disabled people, and opening many other doors for me in my future. If you are looking for a place to volunteer or would like to make a donation to this worthy organization please visit their website today!
Thanks so much Becca! I am proud of your volunteer work and how you are making a difference in lives!
~to your success!
Joanne